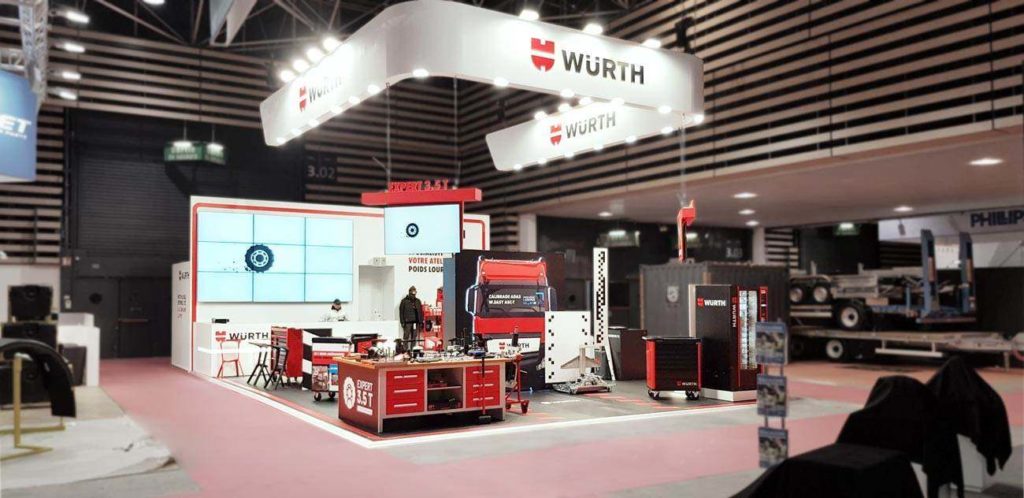 SOLUTRANS is a road and urban transport trade show which is held every two years.
SOLUTRANS 2023: Everything you need to know about the show
SOLUTRANS, or the International Road and Urban Transport Trade Show, is the global crossroads for industrial and urban vehicle innovations and information. The 2023 edition of SOLUTRANS will receive the patronage of the French President, Emmanuel Macron.
So what is the SOLUTRANS trade show?
SOLUTRANS brings together all of the players in the industrial and urban vehicle sector. More than 60,000 professionals and 900 exhibitors from around the world come together to showcase one of the world's most innovative sectors. Outfitters, bodywork specialists, manufacturers, equipment makers, tyre professionals, distribution networks and more: since SOLUTRANS 2021, the show has opened up to a whole host of new technology and smart objects, allowing players in the industry to access new solutions and overcome today's most pressing challenges. The SOLUTRANS trade show is divided up into several sub-sectors:
Equipment manufacturers

Tyres

Semi-trailers and trailers

Services and maintenance

Telematics

Industrial vehicles

Light utility vehicles.
SOLUTRANS boasts 85,000 m² of exhibition space, plus outdoor demonstrations and conferences.
Useful information about SOLUTRANS 2023
The next SOLUTRANS will take place from Tuesday 21 to Saturday 25 November 2023. From 09:00 to 18:00 on weekdays and 09:00 to 17:00 on Saturday at Lyon Eurexpo (0 avenue Louis Blériot in Chassieu, 69680). How to reach the Eurexpo exhibition centre in Lyon:
From the centre of Lyon, take line D to "Grange-Blanche" and then the T5 tram to "Eurexpo".
From Part-Dieu railway station, take the T3 tram to "Vaulx-en-Velin – La Soie", then shuttle 100 "Direct Eurexpo".
From the Perrache railway station, take the T2 tram to "Grange-Blanche" and then the T5 tram to "Eurexpo". 

From Saint-Exupéry airport, take the Rhône Express to "Vaulx-en-Velin – La Soie", then shuttle 100 "Direct Eurexpo"". 

Parking is also available.
Thanks to SOLUTRANS' partners, you can choose from a selection of hotels near the Lyon Exhibition Centre offering reduced rates for participants. Air France and KLM are also offering discounts of up to 15% on selected flights to France.
Why take a stand at SOLUTRANS 2023?
When you have a stand at the SOLUTRANS trade show, you'll have the opportunity to meet new and existing clients, partners, and future employees. You'll also enjoy maximum visibility and a showcase for your expertise and your products.
The exhibitors at SOLUTRANS 2021
Among the many exhibitors at the 2021 edition, several major groups and companies were present. These included the Alma Group, Bosch, Chereau, Continental, Coyote Business, Euromaster, GoodYear, Mercedes Benz France, Michelin, Point S Industriel, Primagaz, Renault Trucks, Volkswagen, Volvo Trucks.
The I-nnovation Awards 2021
One of the highlights of the SOLUTRANS trade show, the I-nnovation Awards showcases manufacturer excellence and reflects the current trends in the industrial and urban vehicle market. The winners of the I-nnovation Awards 2021 are:
Bodywork specialists-manufacturers: Tepematic – CVIM 

Equipment category: Dyn'Acces 

Digital Award category: LCV – Lamberet, Infinity – Ekolis and AI Cam – Idrive
For the fourth consecutive year, SOLUTRANS also hosted the international ITOY, IVOTY, IPUA and Truck Innovation Awards. 
The winners for 2021 were: 
● International truck of the year: AF – XF/XG/XG+ 
● Truck innovation award: DAF – XF Hydrogen